Equipment for foamed concrete and cellular lightweight concrete production
>
Product catalogue
>
Equipment for foamed concrete
> Machine Fomm-Prof for foamed concrete production
Machine Fomm-Prof for foamed concrete production
Main fact you should now about this machine:
 you don't need additional pumps for transfer foamed concrete. Machine do it with air pressure up to 15 meters.
Purpose
The machine is aimed for foam concrete production by means of mixing of produced foam with concrete mortar.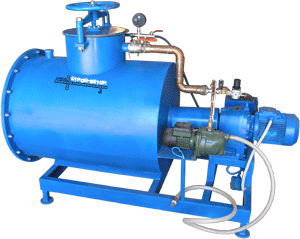 Composition and principle of operation
The machine consists of a foam generator and a mixer mounted on one frame and connected by hoses. Foam is produced by the foam generator and is fed to the mixer through a pipeline where it is mixed with the mortar. The produced foam concrete is fed into a casing or mould. Foam concrete of definite density is automatically produced in this machine. Having adjusted the device once (digital display), one can get foam concrete of certain density further by pressing a single button. All the necessary faucets close and open automatically.
This machine has no analogues according to its level of automation. Nowadays it is the only device which allows to produce foam concrete of definite density without the assistance of qualified staff or long adjusting before every batch.
Technical Features
| | | |
| --- | --- | --- |
|   | Fomm-Prof 500 | Fomm-Prof 1000 |
| Maintenance staff | 3 persons | 3 persons |
| Weight in an unloaded condition | 700kg | 900kg |
| Capacity, cub. m. of foam concrete | 3 cubic m/hour | 6 cubic m/hour |
| Dimensions | 2000х1000х1500mm | 2500х1200х1700mm |
| Volume of the operating reservoir of the mixer | 500 liters | 1000 liters |
| Model of the fitted foam generator | Fomm-PGM | Fomm-PGM |
| Operational air pressure in the mixer | 0.8 atmospheres | 0.8 atmospheres |
| Operational air pressure in the foam generator | 6 atmospheres | 6 atmospheres |
| Supply voltage | 380V | 380V |
| Density range of foam concrete | 350-1200 kg/cubic m | 350-1200 kg/cubic m |
| Ratio of foam generation no less than | 12 | 12 |
| Range of foam density adjustment within | 20-200 grams/liter | 20-200 grams/liter |
| Power consumption KW/h | 10 Kilowatt (with a compressor) | 12 Kilowatt (with a compressor) |
Competitive advantages of the machine
the machine consists of the reliable components produced according to German technologies. Each part of the machine is a competitive and reliable produce and can be sold separately. This fact guarantees uninterrupted operation of the whole machine.
all necessary information about production of foam concrete is provided
there is an opportunity to take a free training course at an operating production site
we provide assistance in certification of the produced foam concrete
Necessary additional equipment: Compressor K-2 or any other one with the output of no less than 0.5 cubic meters per minute and the pressure of no less than 6 atmospheres. We recommend a Russian compressor K-2 which has been tested at the production site (no interruptions during two years). The cost can be found in the price-list.
Further there are descriptions of the mixer and the foam generator used in the machine:
Foam generator FOMM=PGM - a highly productive high pressure foam generator for foam concrete production (made according to German technologies)
Purpose: foam generator is designed for foam production for foam concrete in any mortar mixer (mud room).
The device and principles of its work: the foam generator consists of the block that takes the mixture of the foam agent from any reservoir. The intake hose of the foam generator is put in any reservoir which contains the mixture of the foaming agent (we recommend GreenFroth, but any other foaming agent can be used). After that the compressor feeds the pressure and foam comes out of the tube which generates it. With the help of valves the texture of foam can be adjusted – from small closed pores (less than 0.1 mm) to foam with large pores.
Competitive advantages of foam generator 

Fomm-PGM

:
high productivity, up to 500 liters per minute
operates on any type of frother (the recommended frother is Arekom, but even frother made by oneself can be used. Technological rules of frother production are provided)
for production of foam concrete one can use concrete sort 400
the solidity of foam can be regulated
easy to operate and highly reliable
can be operated even when there are no water pipes
Mixer of constrained type CM500 (CM100) - a highly productive mobile mixer for use with foam generator which does not require a special pump
Purpose: the mixer is designed for creation of a mortar and mixing it with foam produced in foam generator. After that the received foam mass can be fed through a hose to the required spot without the use of a special pump, under the exposure to pressure. Mixer CM500 (CM1000) is mobile, is mounted on wheels and can be easily moved around a production or construction site. The mixer can be used for production of foam concrete, as a plaster station or for production of a high quality mortar.
The device and principles of its work: the mixer consists of a motor block, a cistern inside which there is a special mixing mechanism, a valve for pressure supply and a faucet for the output of foam concrete mixture.
Competitive advantages of mixer 

СМ500 (СМ1000)

:
Productivity up to 3 cubic meters per hour (up to 6 cubic meters per hour)
no special pump is required, the mixture can be supplied at a distance of up to 10 meters horizontally and up to 5 meters vertically under overpressure
universality – one can produce foam concrete, mixture for plaster and laying
foam concrete of any solidity can be received on the basis of concrete 400 (with the use of foam generator)
easy to operate and highly reliably (1 year FULL WARRANTY for the device)
The arrangement of the mixing part and its advantages:
The mixing mechanism consists of two screws pointed at different directions. This allows to achieve full mixing of the mortar with foam during 15-30 seconds. Usual concrete mixers with blades does not provide even mixing and it is impossible to receive a homogenous foam concrete mass.

The appearance of the inside part of the mixer through the input orifice.