Equipment for foamed concrete and cellular lightweight concrete production
>
Product catalogue
>
Equipment for foamed concrete
> Peristaltic pump Sunny-SHN7000
Peristaltic pump Sunny-SHN7000
Peristaltic pump Sunny-SHN7000 for feeding foamed concrete to height up to 60 meter
PUMP OF NEW GENERATION!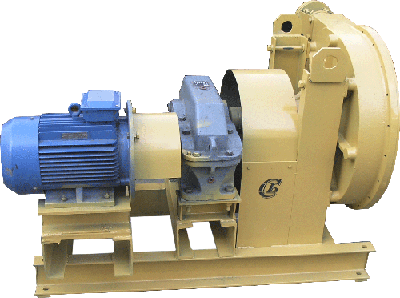 PRINCIPLE OF OPERATING THE peristaltic PUMP
While rotating a rotor in glycerine, a shoe completely squeezes a peristaltic (operating pary of the pump), located in circle inside the housing, and squeezes out pumped liquid to the pipeline. In front of the shoe the peristaltic recovers its form and soaks liquid. Abrasive fractions are pressed into the elastic interior layer of the peristaltic, and then they are pushed into the stream without damaging the peristaltic.
ADVANTAGES OF THE PERISTALTIC PUMP
Reliability, simplicity in operating.
The only wearing part is a peristaltic, which is changed without dismantling the pump after 500 – 2000 hours of operation, depending on properties of pumped medium.
Smooth flow-type part without valves and canister raks. Pumped medium does not contact with moving metal parts.
Structure of pumped medium is not damaged.
Absolutely hermetic, there is no compression.
Possibility of reversible operation. Change of rotating direction activates self-cleaning of the pump.
Constant feeding.
Possibility of "dry" operation, i. e. liquid in the flowing part is not obligatory.
Possibility of pumping liquid-gas mixtures.
Self-pumping up to 9 m. without preliminary filling.
Suction of pored liquid from horizontal surfaces.
It does not damage the structure of foamed concrete.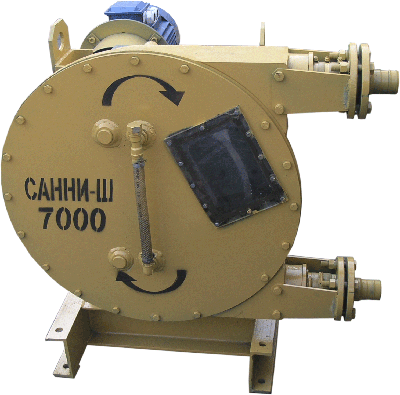 APPLICATION:
Construction (pumping constructional mixtures, foamed concrete, pitches, hardeners for resin-bonded chipboard)
Aeration
Sewage treatment plant
Chemical industry (aggressive medium)
Pulp-and-paper industry
Dozing;
PUMPING PRODUCTS:
Highly abrasive,
Highly viscous,
of great density,
chemically active,
damaging because of mechanical influence;
Specifications:
| | |
| --- | --- |
| Maintaining personnel | 1 person |
| Weight in unloaded condition | 435kg |
| Capacity of pumping | 7 cubic meter per hour |
| Range of mixture feeding | 150m. |
| Height of mixture feeding | 60m. |
| Dimensions | 1395x975x880mm |
| Diameter of inlet and outlet branch pipes | 50mm |
| Hydraulic drop | up to 1,5 MPa |
| Power voltage | 380V |
| Consumed power КW\h | 7,5КW |
Description of gerotor type pumps become obsolete.
Not produced
Gerotor type pump Sunny-GN4000 is a high-duly gerotor type pump for foamed concrete, paint and plaster mixtures, paste fillers, raw sludge and so on.
NOT PRODUCED!!!
Purpose: for head transporting foamed concrete, paint and plaster mixtures, paste fillers, raw sludge and so on. As a gerotor type pump transports pumped mixtures without pressing it, the pump is absolutely suitable for pumping foamed concrete. Foam in concrete mass is preserved. The device pumps everything that can flow low or highly viscous liquids with fibres or firm fractions of size up to 5 mm.
Composition and principle of operating: it is based on using a gerotor type mechanism, where a rotor (screw propeller) moves like a planet moving in a stator (iron ring) and forces out the volume of transported medium, being in closed cavities between the rotor and stator.
Competitive advantages of the gerotor type pump 

Sunny-GN4000

 :
capacity is 4 cubic meter per hour
it is delivered with a bunker of volume 250 litres, that provides the possibility to use it not only in composition of a Mortar-mixing machine, but separately as well.
universalise ? it is possible to pump foamed concrete, mixture for plaster and laying and any other mixtures. As there is a bunker, it does not demand any other devices.